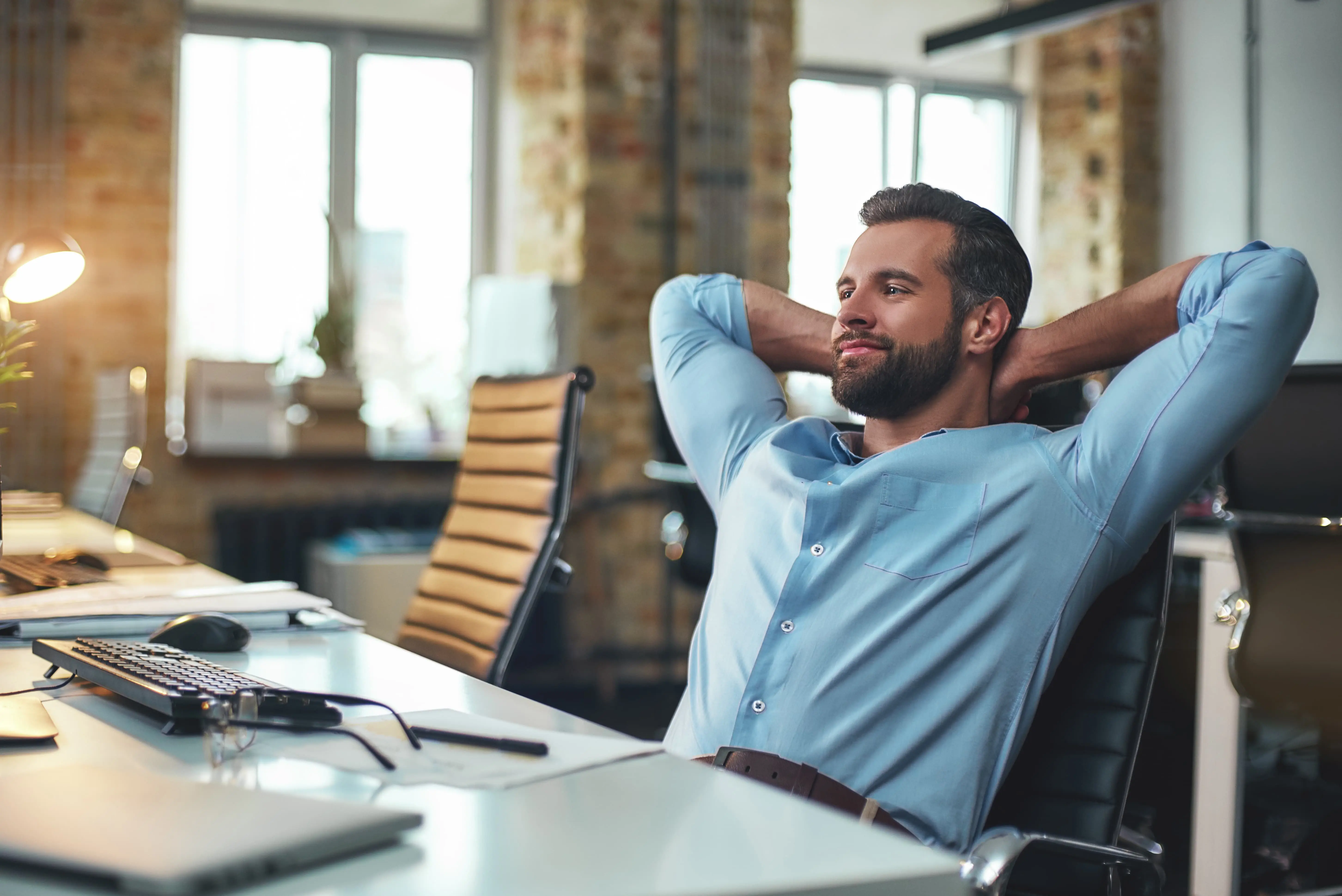 Rent your printer with RelaxRate
Our RelaxRate service allows you to rent a high-quality printer and gain access to a range of benefits such as delivery & installation, maintenance and automatic toner delivery. Just choose the package that is right for you and we will handle the rest!
Why should I rent my printer from Konica Minolta?
No matter the size of your company, saving money and adding value will always help your company grow. Renting your printer through RelaxRate unlocks all these benefits that are here to support your day-to-day business giving you peace of mind.
1.

Monthly payments
Choose the contract volume and duration that is right for your business. For a low-cost monthly fee, you receive your preferred printer as well as our valuable services.
2.

Nationalwide repair service
3.

Free installation & maintenance
4.

Automated toner ordering
5.

Free delivery
Pick your perfect printer and we manage the delivery free of charge. Get a high-quality printer straight to your office, for no additional charge.
6.

Manufacturer warranty
We have got you covered. When you rent any printer with RelaxRate, our manufacturer warranty keeps you covered for your entire contract. If you ever need any repair or maintenance, our team will be ready to help.
Choose your RelaxRate package
How much do you print? Choose from one of three options based on your print needs.
starting from 21 EUR / month

Ideal for occasional printing. This low-cost option provides a limited number prepaid pages per month.
starting from 25 EUR / month

Rely on enough prepaid pages per month for a small or medium businesses that needs to print daily.
starting from 61 EUR / month

Great for businesses with a high print demand. Print as many pages you want per month at no extra charge.
Check all included services
What else does RelaxRate include?
Renting is a different way of accessing a printer without any down payment or loan. In addition to the printer, your monthly fee covers all the benefits you can see below. We take care of your printer, you boost your business.
Buy

Rent packages

Delivery

Free printer delivery to final location

Included

Included

Installation service

Printer on-site installation and activation

Excluded

Included

Installation of driver on one PC/ server, notebook and other device

Excluded

on one device

User Training

Excluded

Included

Remote Monitoring

Printer, paper and toner monitoring

Excluded

Included

Automatic reporting of printed pages

Excluded

Included

Supplies

Toner delivered with device for first usage

Included

Included

Automatic toner ordering at 10% and delivery (never run out of toner)

Excluded

Included

Free paper, staples, etc.

Excluded

Excluded

Full Service

Free ad-hoc repairs, regular and preventive maintenance (incl. call-out charges, labor, parts, etc.)

Excluded

Included

Free drums and other spare parts (except supplies)

Excluded

Included

Printer pick up from location after runtime

Excluded

Included

Help & Support

24/7 device remote monitoring

Excluded

Included

Customer Self-Service Portal

Excluded

Included

Average response time in hours

not defined

next business day

Secure & Sustainable

bizhub SECURE Platinum

Excluded

Included

Clean planet (Recycling & Return Program for consumables)

Excluded

Included

Invoicing and payment

Regular invoicing RelaxRate period

not applicable

1st day of each month

Additional invoicing when you reached your prepaid limit

not applicable

1st day of each month
How do I rent a printer with RelaxRate?
1.

Select and define
Select the printer that meets your needs. Define your options. How many pages do you print monthly? Choose your contract duration.
Start with selection.
2.

Order
Order your printer and choose your contract type online.
3.

Arrange and delivery
We get in touch with you to arrange a delivery time that is convenient for you. We deliver and install your new printer.
4.

Print and relax
Print high-quality documents. Lean back, relax and enjoy the benefits of automated toner delivery, free maintenance & repair and 24/7 remote printer monitoring.
What else you can benefit from?
1.

Free user training
Lean on Konica Minolta to master your printer. Benefit from the free user training that is provided when you rent with RelaxRate.
2.

Stay secure whilst you print
Cybersecurity is built into RelaxRate through
bizhub SECURE Platinum
. Cybersecurity and protecting your valuable company data has never been simpler.
3.

Print supplies recycling
Safe disposal of print supplies can be a challenge for smaller companies. Our
Clean Planet program
takes this hassle away. You print as normal and we recycle your consumables.
4.

Quick response time
Need fast support? We get back to you within one business day for any rental request. Your business is our priority. So we will make sure you will not be left waiting.
What do our customers say about our RelaxRate packages?
Very good customer service and quality of machines.
Vanessa, Belgium
Excellent machine, quality and helpdesk. Fair cost to quality ratio.
Patrick, Belgium
The machines and the service are of high quality.
Koen, Belgium
Frequently asked questions
Can I change my RelaxRate package during my contract?

Once your contract has begun, you are not able to change the RelaxRate package.
Can I print as much as I want?

Your prepaid print volume is decided by your chosen RelaxRate package. Your print volume will be accumulated quarterly. If this exceeds your chosen prepaid volume for that quarter, a separate invoice will be sent.
Can I rent any printer with RelaxRate?

Not all of our printers are included within renting with RelaxRate. Some of the printers you can only buy. See our range of RelaxRate printers

here

.
How do I install my new printer?

If you rent your printer with RelaxRate, Konica Minolta will take care of the delivery and installation of your new printer for free. Konica Minolta will get in contact with you to arrange a delivery and installation date. See more information

here

.
What do I do if I have a maintenance issue?

Your printer's 24/7 Remote Monitoring will alert you to any maintenance issues. Once you are made aware, please create a ticket in our Customer Self Service Portal and we will handle the repair for free. See more information

here

.
Is there an option to buy the printer after my contract ends?

Once your RelaxRate contract ends we will pick-up your printer for free. We do not offer the option to buy this printer after the contract ends.
What payment options are there for RelaxRate?

You can pay for your RelaxRate package via Credit Card or SEPA. Payments are made via monthly payments.
Will my rented printer be new?

Yes, all printers included within our RelaxRate packages are new.
Where can in find the invoices?

Your invoices will be sent via e-mail and they can be found in our

Customer Portal

.
Can I change the payday?

No, we will always charge at the beginning of the month.
Is there any way to change the contract of the packages to save money?

We have compiled our RelaxRate packages in a way that you will have best cost-quality-ratio, including all services that give you freedom of mind and focus on your business instead of taking care of your printing. The packages include different volume of prepaid pages to fit them perfectly to your printing needs. Other components of the RelaxRate are not configurable as they are covering most valuable services which we recommend for every type of business. For more details please check here.
What connectivity do Konica Minolta printers have?

We offer a variety of printers using USB, LAN, WiFi, Google Print, Air Print and Bluetooth connectivity.
Is automatic toner delivery free of charge?

With our RelaxRate you can fully rely on our automatic toner ordering and delivery service. The toner delivery is free of charge.
If you buy a toner for a printer without RelaxRate here on the online shop, a fee for delivery will be charged.